Update: 12/16/ 2:00 pm
May God help us with this fire! It looks like the Mandatory Evacuation will be in effect this Sunday, so the church will be closed. Fr. Love, Pastor of St Mark's Catholic Church, is kind enough to open up his doors to let us have a special Mass this Sunday, December 17th, at 5 p.m. for Mount Carmel. All parishioners are welcome to come for the celebration of our community and to join in prayer for the safety of our homes, school, church, and first responders. After Mass we will have refreshments.
Please spread the word to other parishioners who are in town and we hope you can join us.
St. Mark University Parish
6550 Picasso Road
Goleta, CA 93117
Third Sunday of Advent Mass
12/17/17 5:00 pm
Reception to follow
Other Updates:
- The parish will be closed and have no services this Sunday and as long as the area is under mandatory evacuation.
- Giving Tree: please hold on to your gifts for now. We will try to collect them latter.
- Most Beloved Christmas Carols Concert has been postponed to Sunday January 7th.
Please check the Parish website for more information about parish activities.
---
Mass Schedule
Weekdays: 7:45am
Saturday: 7:45am
Vigil Mass: 4:30pm
Sunday: 8:00, 10:00am, 12:00 noon
Holy Days
Vigil 5:30pm (day before)
& Holy Days: 7:45, 9:00am & 5:30pm
Confession Side Chapel
Saturday - 3:30 - 4:15pm.
Our Lady of Mount Carmel Catholic Church
1300 East Valley Road
Santa Barbara, CA 93108
For driving directions, click here for the map
(corner at Hot Springs Rd. & East Valley Rd.)
phone: (805) 969-6868
email: dellastrada1300@gmail.com
Donate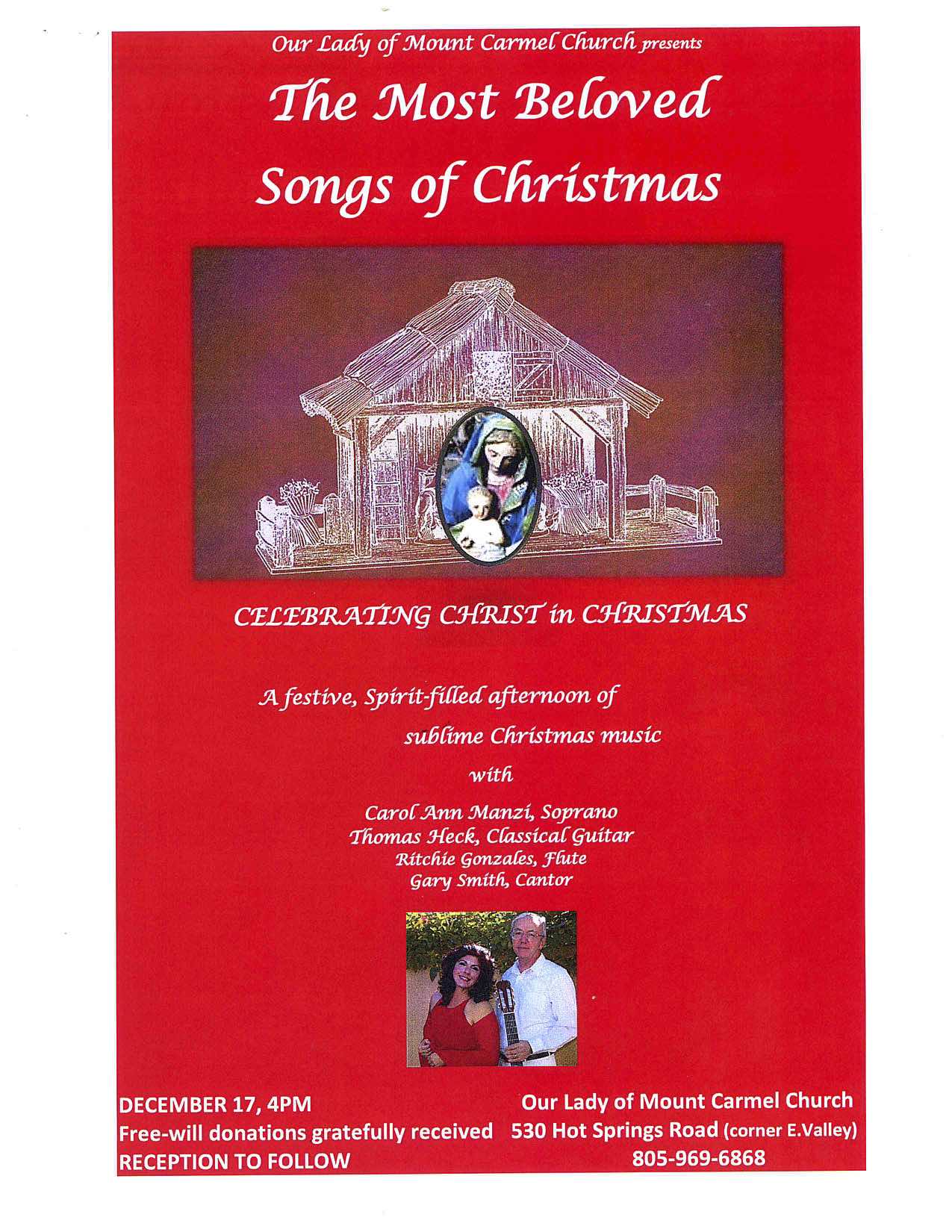 ---
Our Lady of Mount Carmel Church
May Our Lady of Mount Carmel be with you always. May she be the star that guides you and never disappears from your horizon. May she lead you now, throughout your life, and at its completion to a safe haven.
—Pope John Paul II