Ministries
Parishioners have several choices to enjoy fellowship while offering their time and talents as we grow in our faith through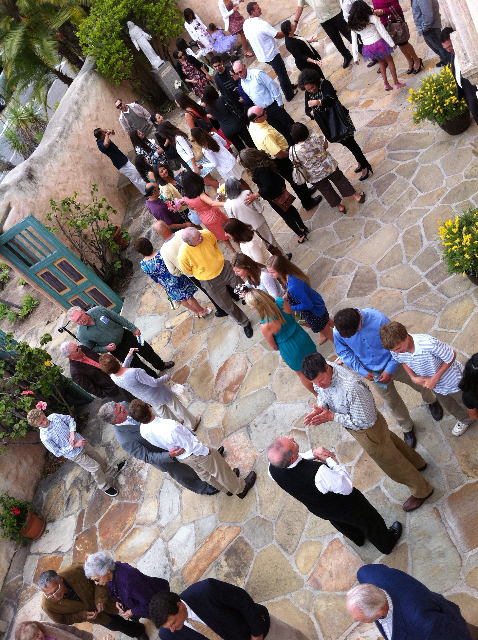 activities and relationships. Our vibrant community encourages all parishioners to become involved, and we welcome your service to our parish and to one another.

We welcome your visit to the Rectory Office or you may contact your Parish Pastoral Council members for more information.
Choirs
We welcome all Parishioners who are eager to sing.
Contact Gary Smith, Director of Music, for information.
email: GarySmithMusic@gmail.com
Adult Choir
Children's Choir Grades 4 through 7
Teen Choir Grades 8 through 12

Hospitality

Each Sunday following the 10:00 a.m. Mass, we gather in the courtyard for cappuccino and donuts! A joyful time to meet one another and allow the children to play!
To volunteer, please email Kathleen Quinn at sbkquinn@gmail.com or David Crooks at dcrooks@aol.com
We welcome new team members, and this ministry is fun and easy. You may assist on the dates convenient for you, and there is no long-term commitment. We welcome your participation, and volunteering just one Sunday every few months is a great way to meet people and make a real contribution ... many hands make the work lighter!
If you are a member of an OLMC School family, you may be able to get service hours. Check with the school office. Confirmation candidates may also earn service hours, please check with Sarah Mack, Youth Ministry Coordinator.
Education - Children's Faith Formation
Teach Children's Religious Education classes on Sunday mornings from 8:40 a.m. to 9:50 a.m. Volunteer teachers are trained, and these classes are enriching for students and teachers alike. The children truly value their teachers!
To discuss volunteering as a teacher,
Contact Sr. Kathleen Patrice, Director of Religious Education and Community Outreach Programs

phone: (805) 969-4868
email: srkathleen@mountcarmelschool.net
---
Worship
We welcome parishioners eager to serve as Eucharistic Ministers, Lectors, Ushers. To register and for Mass assignments, please contact Maribel at the Rectory (605) 969-6868
---
Parish Pastoral Council Established. 2005
The Pastoral Council of Our Lady of Mount Carmel Parish is a gathering of parishioners which, in union with our Pastor and as a consultative body, serves in an advisory capacity to the Pastor.
Email your questions or comments
Mission Statement
Our Lady of Mount Carmel Church is a Catholic Community which offers a holy, joyful, and peaceful place to worship God, study His Word, and do His work. All people are welcome as we journey together in faith to live out the love of Jesus Christ through the intercession of Our Lady of Mount Carmel.
Objectives
To help parishioners connect their faith with the world in which they live, we aim to:
deepen Christian understanding (people who know their faith will reach out to others)
build Christian community (people who socialize together will work together)
foster Christian sharing (people who work together and share their gifts will pray together)
encourage Christian worship (people who pray together will attract other people to do the same)
spread the Christian message of salvation (people who evangelize, pray, work, socialize together, and know their faith are doing Jesus Christ's loving work).
Ex-Officio Positions
OLMC Religious - Sr. Kathleen Patrice (since 2005)
Santa Barbara Regional Pastoral Council - Steve Martin (since 2011)
Committees
Education Committee: Jennifer Caesar
Hospitality Committee: Richard Ortale
Communications Committee: Valerie Watson
Building, Facilities, and Capital Improvement Committee: Fr. Steve Downes
Finance and Long Range Planning Committee: Fr. Steve Downes and Bob Kummer
Youth Committee: Sarah Mack
Christian Service Committee: Bridget Crooks
Worship Committee: Bridget Crooks
Nominations: Bridget Crooks and Richard Ortale
Safeguard the Children: Larry Scalese and Bridget Crooks
Heartfelt "thank-you" to our Past Council Members and Chairpersons:
Parish Leaders Previously Serving as Council Members

Frederic Cogburn (2005-09, 2010-13) Chair 2008-2009 & 2010-2013

George Zaki (2010-2013)

Sergio Gonzales (2011-2013)

Michelle Kelly (2011-2012)

Stephanie Kwock (2009-2012)
Co- Chair (2011-2012)

Susan Pate (2007-2012)

Bridget Crooks (2008-2011)
Chair (2010-2011)
Co-Chair (2009-2010)

Barbara Randall (2008-2011)
Secretary (2009-2010)

Carolyn Groth-Marnat (2007-2011)
Secretary (2008-2009)

Steve Martin (2005-2011)
Chair (2009-2010)
Co-chair (2008-2009)
Secretary (2007-2008)

Cornelia McGrath (2005-2010)

Tom Tegart (2007-2010)

Glenn Mueller (2005-2009)
Chair (2005-2008)

Martin Bell (2005-2008)
Co-chair (2007-2008)

Raphael Victoria (2005-2008)

Ken Fitzpatrick (2005-2007)

Jane Macedo de Veer (2005-2007)
Secretary (2005-2007)

Don Gragg (2005-2007)
Co-chair (2005-2007)

Mairead Vanderfin (2005)